Version 1.2.13
Free • MacOS 10.8 or later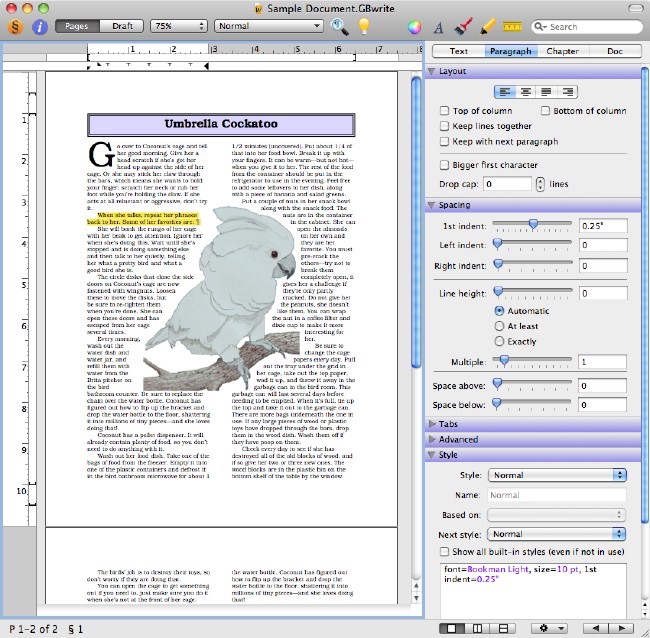 It's a word processor, not a nuclear reactor
Perhaps the word processor you've been using has 100 times more features than you need. Or it won't work the way you want it to—too many views or too few, and nothing makes any sense. Or it looks as if it were designed back when computers displayed text in green letters on a black screen. Growly Write is something else entirely: fresh, capable, and simple. But not too simple.

The range of documents you can create in Write is staggering: multiple columns, chapters with different layouts, pictures that flow with the text or pictures that text wraps around, drop caps, tables, lists, links within a document or to web pages, borders simple and complex, and a complete toolkit of text formats. But everything is easy to find.


The amazing format panel
The section on the right of the screen shot above is the format panel. It lets you change the appearance of everything in the document, without ever getting in your way. No obscure commands, complex and ugly modal windows, tiny indecipherable icons, or hunting through menus. If you want to format something, this is the place to go.

The tabs at the top let you choose what to modify: text, paragraphs, tables, lists, pictures, what have you. They reconfigure automatically to match whatever you've selected. Within each tab the properties are broken down into small, easy-to-understand groups. If you don't use styles, for example, just close the style group and you'll never have to see it again. But when you do need a certain format, you'll never have to wonder where it is.

If you're just typing and you don't want to think about formatting right now, simply close the panel.


Look again
Sometimes you need to concentrate on making your document look great, but for most documents it's the
words
that matter most. When you want to focus on the text, use the
draft view
(vs. the
page view
shown above).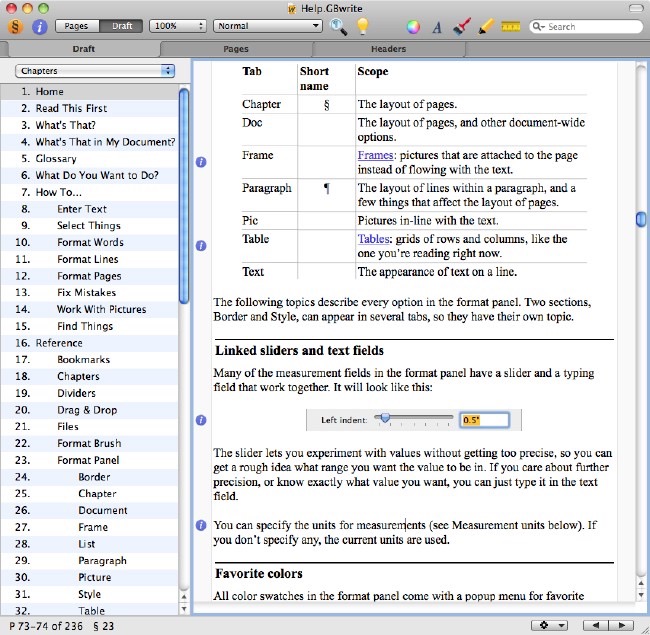 Draft view has several advantages: it's faster, less cluttered, and it lets you see things that don't print. Page view focuses on the final appearance, so it hides some things that have to do with document structure.

In the screen shot above, the blue info buttons to the left of the text show that something interesting is on that line, in this case links or pictures. Lists, bookmarks, and many other things also cause the blue info button to appear. Click the button to see what the special item is, and a menu appears that allows you to modify it. These options are also available in page view, on the context menu for the item.

The panel on the left of this example shows document elements, in this case the chapters. You can also see bookmarks, frames, lists, notes, and tables. To jump to one of these elements, just click the list entry. As with the format panel, if you don't use the elements list, you can close it.

Notice the tabs just above the document content: they're like the tabs in most web browsers. You can open a tab on any part of the document and view them in different ways. Headers and hidden notes always open in new tabs. You can jump from one area of the document to another just by clicking on the tab.

If you actually want to see two parts of the document at the same time, you can do that too: turn off the tabs and open a second pane in the same window.

The last thing to notice about the screen shot above is that this is a real image of Write's help file. Yes, it really is over 200 pages long.


Plays well with others
Write can import Microsoft Word files, but it does even better with RTF. Any of the popular picture formats, plus HTML, emails, clippings, and of course any of the dozens of plain text formats—all can be opened or dragged into Write documents. Write exports RTF, HTML for web pages, and plain text.


Not for everyone
There are many advanced word processing features you won't find in Write. This is absolutely intentional: we've purposely excluded things that most people won't use every day. If you're looking for free-floating text boxes, footnotes, built-in drawing tools, macros, equation editors, automatic indexing, or complex document sharing tools, there are commercial products available that support all these and more. Or you might want to look at our Notes product.

Write is intended for people with straightforward needs who want to create great-looking documents. There's not one thing in Write that we haven't used ourselves. If you're tired of struggling with an app that makes rocket ships look simple, this might be the word processor for you.


---
Word is a registered trademark of Microsoft Corp.