Version 3.0.7
Only $4.99 on the Mac App Store • MacOS 10.8 or later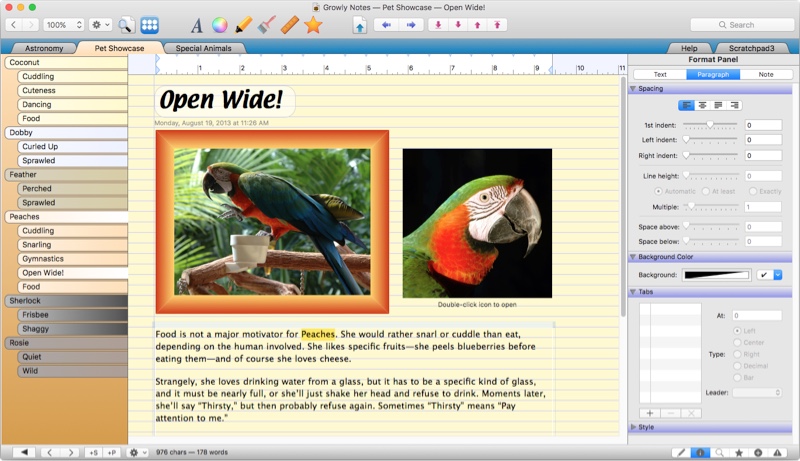 Organize your information
Growly Notes lets you capture everything you're interested in, all in one place. Organize class notes, research projects, trips, to-do lists, or journals. Scrapbook your images, web links, and video clips. Your imagination is the only limitation.

Pages can contain almost anything: formatted text, images, movies, audio clips, PDF files, tables, lists, web and file links, and drawings you create in Notes. There are no rules for where things have to go: put an image beside text or under it. Draw shapes on top of other notes. Put two snippets of text right next to each other. Click anywhere and start typing. It's really that simple.

Notebooks are organized into sections (the larger tabs on the left in the image above), each of which contains as many pages as you like. All the open notebooks can be shown in one window, for easy navigation and quick jumps, or each in its own window.


Get the look you want
With Notes you can change the appearance of everything on the page, from the color and font of text to the background color of the page and whether it has rule lines—even put a picture behind all the notes like a watermark.

But you can also change the look of the Notes program itself. We prefer the colorful tabs shown above, but if you find them distracting you can change the tab colors, remove the tab colors, or just give up on the tabs altogether and use a traditional Mac interface: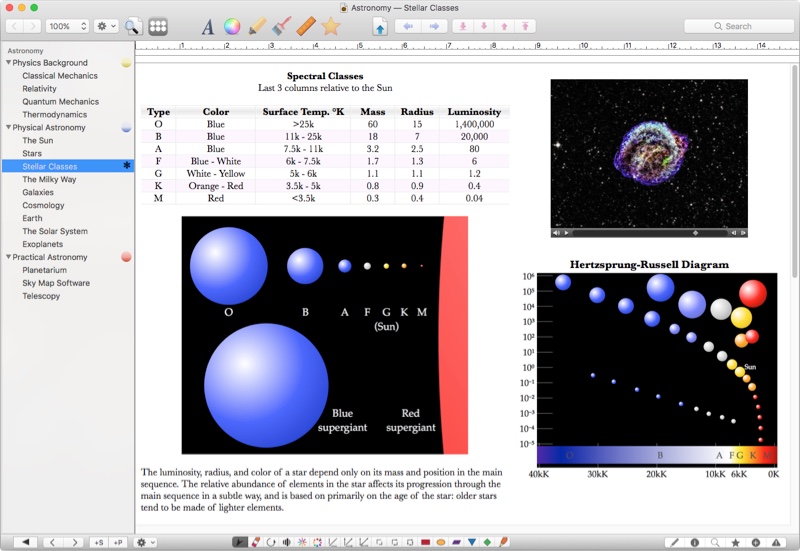 Find it again, Sam
Creating a notebook is one thing. Finding a specific note a week later is another. Notes lets you search all open notebooks for any text, and shows you the results in context. A single click on a result takes you to that note.

You can also tag notes using built-in categories or ones you create yourself, and search for tagged notes with one click. For pinpoint searches, look for tagged notes that contain specific text. Or bookmark a specific place in text.

Create links to anything in your notebooks (including bookmarks) so you can jump back to them in a flash.


Tables and lists
Notes makes it easy to organize information into tables. Tables can contain anything you can put in normal text (except other tables), including pictures, links, and lists. Add columns or rows at any time, change the column names, and rearrange columns.

If tables are a little too structured for your needs, create bulleted, numbered, or checkbox lists instantly. For example, click on the page and type the number 1—you're immediately working in a numbered list.


Templates
If many of your pages look the same, create a template from any page and use it to make identical pages with a single click. Or use one of the dozens of built-in page templates that come with Notes. Notes also provides several useful templates for new notebooks, or create your own notebook templates.

Share templates with your friends or colleagues so all of your notebooks share the same cool design.


Rich, rich data
Of course Notes handles text and images, but you can also capture a print-out from any application and send it directly to Notes. Many applications can send data to Notes using the Services submenu of the application menu. You can also record audio or video notes right in Notes. Add web links, file links, or links to pages or notes within your notebooks, so the information you want is just a click away. Scribble on your pages with the built-in drawing tools. And anything can go anywhere.


Sharing notebooks
Notes allows collaborators to work independently on the same notebook and then sync their changes together. Store the shared notebook on a thumb drive, a shared folder on your computer, a file server, or the web. Or, if you're the only one working on the notebook, store the master copy on the web and sync to it from your home and travel computer. No need to shuttle it back and forth manually.


Protecting notebooks
For protecting your private information, assign a password to any section or the entire notebook. No one can see your text, not even the page titles, until the correct password is given. The data is hidden on the screen
and
encrypted on the file for maximum safety. If you feel your own computer is secure but you want to protect copies of your sensitive data, Notes will store your password on your Mac's secure keychain, so you don't have to type it in every time—security plus convenience.


Take notes while working in other programs
Open a floating window to take notes while you're doing something else—watching YouTube videos, working in a spreadsheet, or following a PowerPoint presentation. The text is stored in a special location and can be moved to any other notebook when you're done. Re-open any text note into a new floating window any time you want.


Somewhat like Microsoft OneNote® for Windows®—but Macintosh
If you've used Microsoft OneNote for Windows, Growly Notes will feel familiar. You can put notes anywhere, resize them at will, and layer them. Notebooks are organized into sections and pages. Pages can contain almost any content you can create. But Notes works on your Mac. Beautifully.


Growly Notes version 1 users
If you still have the free version 1, please
read this
.

---
What our users say about Growly Notes
JDoveton from Australia
-
Brilliant for language learning

This app has been a lifesaver for my language learning. Overall very easy to use and certainly worth the price.


MD-2B from United States
-
Unbeatable tool

This is the best tool for students imaginable. Keeps you incredibly organized, allows you to record the lecture. I could go on and on. It's definitely worth your time, nothing is even close. Thanks for this great product!


jpbeekhuis from Switzerland
-
PERFECT NOTE TAKING

This wonderful Application lets you create well structured notebooks with notes of any type. It has an enormous amount of features, is actively developed and is getting better with each update. You will be amazed how flexible and clever this App is.


Wombloid from United Kingdom
-
Okay -- it's brilliant

The inspiration behind Growly Notes was undoubtedly Microsoft OneNote, but Growly Notes goes its own way and does it very well. It's fast, stable, and very pleasant to use.


Madkowski from United States
-
Great for graduate school students

I recommend it to all my classmates and all the classes under me.


Miralynx from United States
-
AWESOME

I needed an app that helped me keep everything organized and THIS IS IT! WOOHOO! Thank you, THANK YOU. FIVE STARS!


MattM99 from United States
-
Great

Very intuitive and easy-to-use. I had a question before buying, and the developer answered right away. This is one of the best programs I've bought on the Mac App Store recently.


KomodoVan from Canada
-
Fabulous App

Excellent app. $4.99 is a real steal for this app. Better than OneNote. Has everything.

JM001001 from Canada
-
Meilleur que Onenote

Amazing application! Many features not found on Onenote for Mac. Warmly recommended!


mazn_ from Germany
-
Einfach und effizient

Unbeatable for the price. Was looking for a OneNote alternative for the Mac. After much searching and trying out different apps, I am super happy with this!


Mzcind from United States
-
Couldn't live without my Growly Notes

Growly Notes is like a virtual notebook where I capture and collect information I need to run my life. Growly Notes lives on my dock right next to my email and calendar b/c it is that useful. Really could not run my life without it!


ThaiGuay from United States
-
Best Note-Taking Software

This is one of the best apps for taking notes on the Mac. I came from OneNotes on Windows to find the Mac empty of good notes apps, but when I found Growly Notes, I was home again. This is a wonderful program!


BigBreakMusic from United States
-
Best Note-Taking App Hands Down!

I discovered Growly Notes over a year ago when I was searching for a Microsoft OneNote replacement. I was unhappy with all the programs I had found until I discovered Growly Notes. It is the application that most closely resembles OneNote in its ease and flexibility. It is perfect for everything. I no longer care if there is ever a OneNote for Mac because I have Growly Notes!!


Genob1234 from United States
-
The most amazing note taking app!

I am a medical student that has been using this app for over six months now, and it just keeps getting better. The customer support is excellent, and the features have now reached a comparable level of the major corporation level software for pennies on the dollar. I feel the app is way undervalued and everyone should give it a try!


Stephen_UK from United Kingdom
-
A superb very well-supported app

I've been using Growly Notes for a number of years (before it became available on the App Store) and find it an indispensable app for making and organising notes. The help file is first class, as is support (in the unlikely event it's needed). The app is great value for money and I would not be without it.


yepitssandra from United States
-
Great note organization app!

After switching over from PC, the one thing I sorely missed was OneNote, which effectively stored all my notes/messages/templates/ANYTHING into one app. Thankfully, Growly Notes pretty much has all the functions of OneNote (albeit without Skydrive sync) at an affordable price. Love all its functionalities so far.


xpirex from United Kingdom
-
#1 note-taking application for Mac hands down

Congratulations to Chris all his hard work in creating this superb killer note taking application for Mac. Endless functions and usability. I highly recommend this to all.


jrmorgan45 from United Kingdom
-
Nothing comes close to this for note-taking

I'm very pleased to see this on the app store. I've used the previous version of Growly Notes for some time and its flexibility and ease of use is only matched by its long list of features.
---
OneNote and Windows are registered trademarks of Microsoft Corp.