Version 2 is now available on the Mac App Store.
Wondering if you should upgrade? Read this.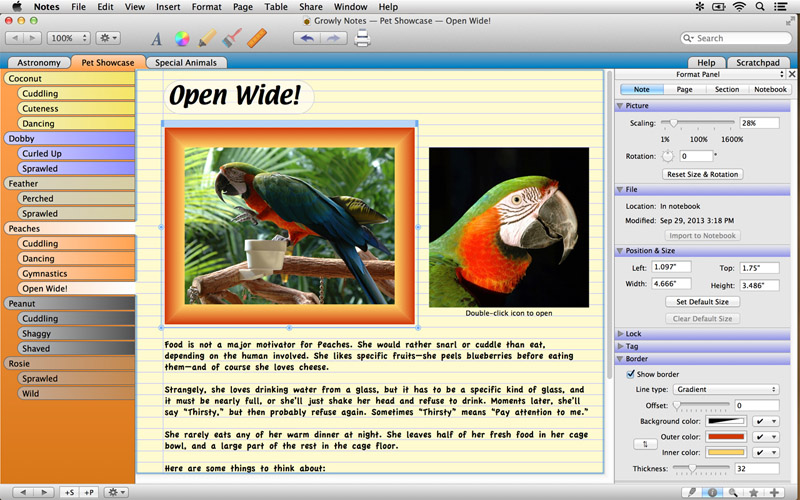 Organize your information

Growly Notes lets you capture everything you're interested in, all in one place. Organize class notes, research projects, trips, to-do lists, or journals. Scrapbook your images, web links, and video clips. Your imagination is the only limitation.

Pages can contain almost anything: formatted text, images, movies, audio clips, PDF files, tables, lists, web and file links, and drawings you create in Notes. There are no rules for where things have to go: put an image beside text or under it. Draw shapes on top of other notes. Put two snippets of text right next to each other. Click anywhere and start typing. It's really that simple.

Notebooks are organized into sections (the larger tabs on the left in the image above), each of which contains as many pages as you like. All the open notebooks can be shown in one window, for easy navigation and quick jumps, or each in its own window.


Get the look you want

With Notes you can change the appearance of everything on the page, from the color and font of text to the background color of the page and whether it has rule lines—even put a picture behind all the notes like a watermark.

But you can also change the look of the Notes program itself. We prefer the colorful tabs shown above, but if you find them distracting you can change the tab colors, remove the tab colors, or just give up on the tabs altogether and use a traditional Mac interface: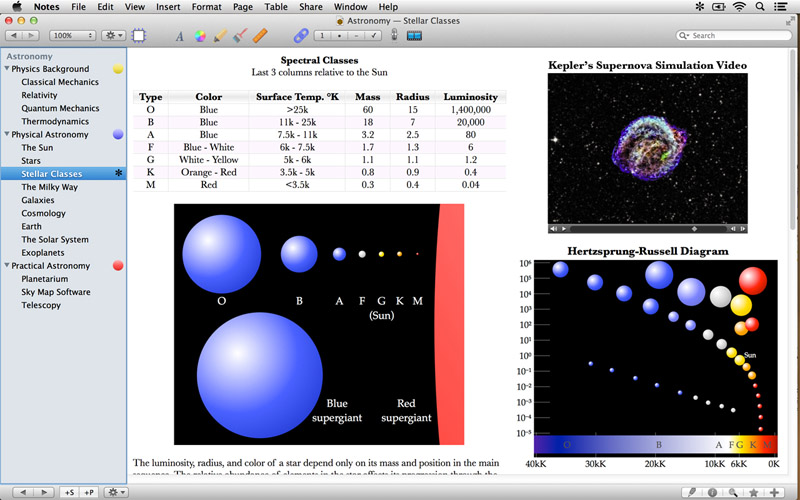 Find it again, Sam

Creating a notebook is one thing. Finding a specific note a week later is another. Notes lets you search all open notebooks for any text, and shows you the results in context. A single click on a result takes you to that note.

You can also tag notes using built-in categories or ones you create yourself, and search for tagged notes with one click. For pinpoint searches, look for tagged notes that contain specific text. Or bookmark a specific place in text.

Create links to anything in your notebooks (including bookmarks) so you can jump back to them in a flash.


Tables and lists

Notes makes it easy to organize information into tables. Tables can contain anything you can put in normal text (except other tables), including pictures, links, and lists. Add columns or rows at any time, change the column names, and rearrange columns.

If tables are a little too structured for your needs, create bulleted, numbered, or checkbox lists instantly. For example, click on the page and type the number 1—you're immediately working in a numbered list.


Templates

If many of your pages look the same, create a template from any page and use it to make identical pages with a single click. Or use one of the dozens of built-in page templates that come with Notes. Notes also provides several useful templates for new notebooks, or create your own notebook templates.

Share templates with your friends or colleagues so all of your notebooks share the same cool design.


Rich, rich data

Of course Notes handles text and images, but you can also capture a print-out from any application and send it directly to Notes. Many applications can send data to Notes using the Services submenu of the application menu. You can also record audio or video notes right in Notes. Add web links, file links, or links to pages or notes within your notebooks, so the information you want is just a click away. Scribble on your pages with the built-in drawing tools. And anything can go anywhere.


Sharing notebooks

Notes allows collaborators to work independently on the same notebook and then sync their changes together. Store the shared notebook on a thumb drive, a shared folder on your computer, a file server, or the web. Or, if you're the only one working on the notebook, store the master copy on the web and sync to it from your home and travel computer. No need to shuttle it back and forth manually.


Protecting notebooks

For protecting your private information, assign a password to any section. No one can see your text, not even the page titles, until the correct password is given. The data is hidden on the screen and encrypted on the file for maximum safety. If you feel your own computer is secure but you want to protect copies of your sensitive data, Notes will store your password on your Mac's secure keychain, so you don't have to type it in every time—security plus convenience.


Take notes while working in other programs

Open a floating window to take notes while you're doing something else—watching YouTube videos, working in a spreadsheet, or following a PowerPoint presentation. The text is stored in a special location and can be moved to any other notebook when you're done. Re-open any text note into a new floating window any time you want.


Somewhat like Microsoft OneNote® for Windows®—but Macintosh

If you've used Microsoft OneNote for Windows, Growly Notes will feel familiar. You can put notes anywhere, resize them at will, and layer them. Notebooks are organized into sections and pages. Pages can contain almost any content you can create. But Notes works on your Mac. Beautifully.


What our users say about Growly Notes

"Growly Notes makes me happy while I sit in long meetings." —Amy R.

"There literally is NOTHING as good as your program out there right now." —C. D.

"The only Microsoft Program I miss from my PC days is OneNote. Growly Notes is even better." —Carla H.

"A brilliant piece of software." —Catherine H.

"You guys have done a beautiful job with Growly Notes." —Chino A.

"Thanks for sharing such a great product." —Dave M.

"Notes is incredible." —David M.

"I'm switching to Growly Notes because of its superior functionality." —David P.

"I love you guys. You saved my life." —Eugene V.

"I could not be happier with Growly Notes. It's just like using OneNote." —Frank L.

"I can't say it enough! Growly notes is great!" —Frode Ø.

"Your Growly Notes is amazing." —Gino P.

"Notes is the best damn thing I've seen in a long time." —James A.

"I use Write, Notes and Journal with great pleasure and find them just perfect." —Jan B.

"You've got a winner!" —Jan C.

"Wow! What a great product!" —John H.

"You are the best. Can't thank you enough for Notes." —Joseph U.

"Notes is simply wonderful." —Ken W.

"I refuse to use anything other than Growly Notes!" —Madison M.

"Growly Notes rocks!" –Marc H.

"Growly Notes = super!" —Marjolijn B.

"Thanks for making such a fantastic application." –Markus H.

"A nice balance of simplicity and usefulness." —Michael G.

"Growly Notes is great and I really love that it is named for your birds." —Michael W.

"Thank you very much for a brilliant product." —Peter G.

"Thanks for your work and for releasing it for free." —Rene R.

"Growly Notes is an incredibly amazing program." —Sarah B.

"You guys have an AWESOME product." —Sean L.

"I'm just in *LOVE* with Growly Notes." —Sherief F.

"Please remove the Uninstall option. There is no need. Notes is the PERFECT replacement for OneNote on a Mac." —Ton M.

"OneNote should grab a couple of pointers from you." —Vartan B.



OneNote and Windows are registered trademarks of Microsoft Corp.