Version 1.2.3
Free • MacOS 10.8 or later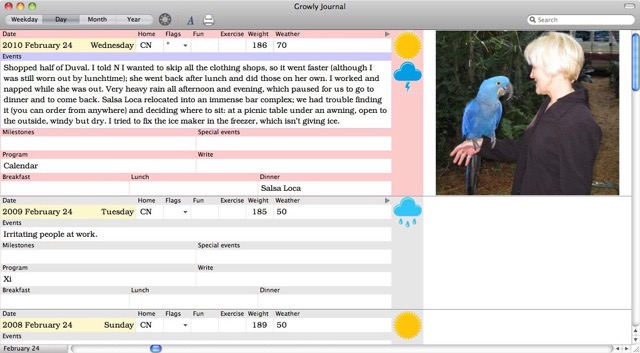 Memory enhancer
Growly Journal is a diary for keeping track of the activities, events, milestones, and trivia in your life. Each day entry contains numerous dedicated fields for things such as special events, projects, anniversaries, restaurants, movies and concerts, and many more. You can also add a picture to any day to help you remember special occasions. And you can password-protect your journal so your secret thoughts are kept private.

The true power of Journal is revealed with time. The default view shows the same day of the year, for every year you've kept your diary. You can quickly scan back to see what you were up to a year ago, five years ago, or more.

Your life is memorable. Record it with Growly Journal.


Slicer and dicer
Journal gives you absolute control over the display of your journal. You can look at your entries in two basic ways: day detail (shown above) and month overview (below). The day views can be sliced by weekday (all weeks), day of the year (all years), one month in one year, or one year. The month views can show all months in the journal or just one month of the year (all years).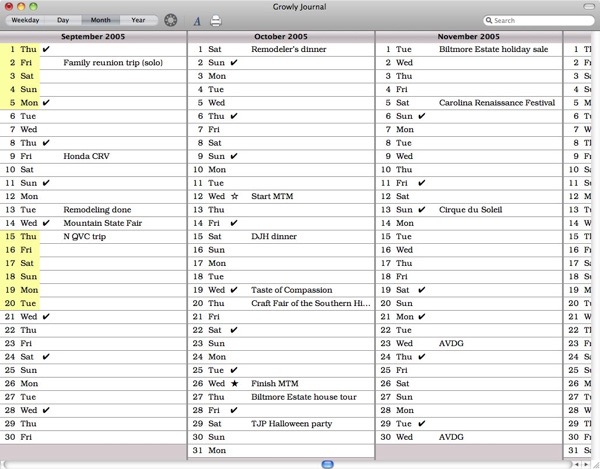 That's just the beginning. In each day entry you can choose to see all 25 fields, which occupy 10 lines, or any subset of the lines. The picture and weather fields can be hidden if you don't use them. You can create your own layouts and save them, which lets you come back to your favorite way of looking at things. For example, you could have a "culture day" layout that shows movies and videos, concerts and plays, books, and restaurants, and hides everything else.

If you don't like the labels we've assigned to the fields, feel free to change them. For example, "Project 1" could be renamed "Sewing" or "Woodworking," or you could use the Gifts field for some other purpose entirely.

And, of course, you can change the default font and colors for the fields to customize your journal even further.


Repeats and reruns
We all have things we do repeatedly: favorite restaurants, movies we watch over and over, and projects that take weeks or months to complete. Journal helps with these repeats by suggesting completions for certain fields as you type. You can ignore the suggestions, but if you're entering something you've done before, auto-completion can save you time.

If you move often, the Home field records where you lived on each date. But the actual act of moving doesn't happen on very many days, so Journal automatically copies the Home field from the previous day when you create a new entry. In the same vein, you can copy
any
field from the previous day simply by choosing a menu command.


Acronyms
Some names, places, and events pop up again and again in our lives: spouses, best friends, favorite activities. You don't have to type the full names for these commonplaces. Just assign an acronym (a short sequence of letters and numbers) to each of them, and type the acronym from now on. When you come back to that day, the acronym will be highlighted, and if you rest the mouse pointer over it a bubble will show you what the acronym stands for.


Searching
Five-year and ten-year journals have been available in paper form for ages. Growly Journal has many advantages over physical books, among them the flexibility to reuse fields for other purposes, to hide fields you don't use, to have different ways to look at the same entry.

But the biggest advantage is searching: you can search for anything, in any single field or in common combinations of fields. You can even use a single "?" to mean "anything" in a field. For example, to find all days when you had breakfast in a restaurant, just select the Breakfast field and type ? in the find text.

You can narrow searches down further by restricting the search to days that are already showing. And a replace function lets you scan through the matches one by one, showing the hit in context, to substitute one word or phrase for another.