Version 1.2.2
Free • MacOS 10.8 or later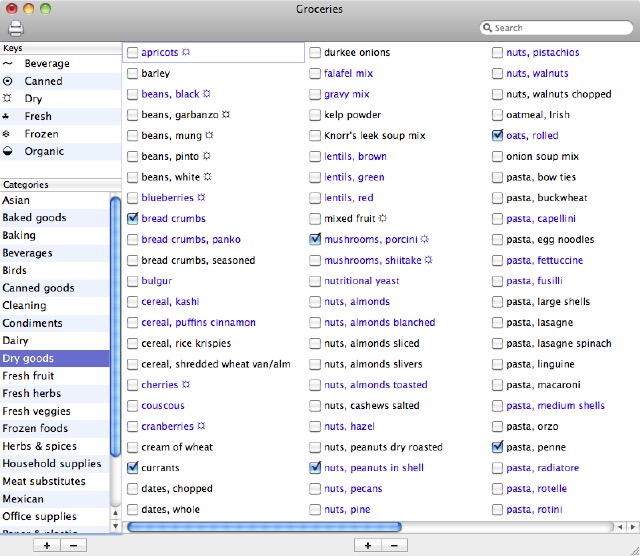 Out of brownie mix again!
If you've ever run out of something you need right now—because you had nowhere to write it down, or the reminder got lost in the crayon drawings on your fridge—Growly Groceries is the solution.

Keep track of what you buy, where you buy it. Organize items into categories and assign them to the stores where you shop. When it's time to shop, instantly find out what you're missing, or print a list of just what you need or everything in the list (with the needed items checked).


From scratch is for baking, not grocery lists
You don't need to type in everything in your fridge and pantry: Groceries comes with pre-built lists that you can use as a solid start. The initial list can be customized for vegetarians and vegans. The omnivore list has over 800 items, already entered and categorized for you. Of course you can delete anything you don't need, and then add the things we never thought of.


Your stuff, your categories, your stores—your list
The grocery list is as flexible as plastic wrap. Easily add, delete, and rename items, categories, and stores; move items between categories; change your mind about where to buy something. It's your list, so slice it and dice it however you like.

When you print the list, you can show everything or just what you need. For the big shopping trips we print out everything and then look in the pantry, manually checking off things we forgot to mark in Groceries. For small trips we ask Groceries to show just what's needed and write them on a slip of paper. Or you could have Groceries print that short list for you, or email it to your phone.

You control how the items in each store are printed: alphabetically, by category, or by aisle. So if you always shop at the same grocery store, you can write down the aisle numbers on the list, put them into Groceries, and never get lost again. (Until the store manager rearranges the aisles, of course!) You can change the order in which categories print, and also the order in which special aisles such as the Bakery are printed.

You can assign a color to each store, so you can tell at a glance where you need to go to get each item.


Searching
Quick searches are simple: just type in the search field in the toolbar. Groceries will show all the items that match the text, as you type.