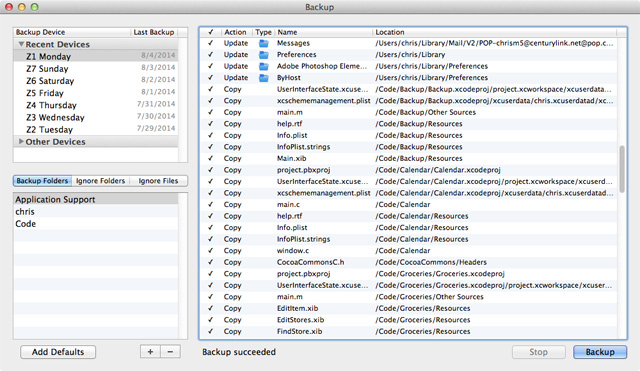 Save yourself

Growly Backup can help protect you against data loss due to accident or theft of your computer or its data. It doesn't replace automatic backup schemes such as Time Machine and storing files on the cloud, it augments them by giving you an easy way to control what gets backed up, to where, and when.


Simple, comprehensible backups

At GrowlyBird we're total, raving paranoids when it comes to losing data. There are too many interesting things going on to do the same work twice. So we use a three-tiered copying regimen that includes Time Machine, storing critical files on offsite DVDs — and Growly Backup.

To use Backup, you take four steps:

Decide what you want to back up. For example, you can select your entire Home folder, or your Documents folder, or any other folder or set of folders.

Specify what you

don't

need backups of. For example, you may have 100GB of photos, movies, or songs that wouldn't fit on the backup device or that you back up some other way. Or you may have copies of files kept elsewhere, or that could be easily recreated. You don't need to waste time and space copying stuff that isn't important.

Choose a device to back up to. You must

set aside an entire device, such as a thumb drive, an external hard drive, or a hard drive partition. You can't have anything else on that drive or partition, or Backup will not use it.

Run

Backup and click the Backup button. Growly Backup makes sure the data on your disk and the backup drive are the same.

To restore files, you just use the Finder. The files and folders on your backup drive are organized in the same way as on your original disk. Find the file on your backup drive and drag it back to your startup disk. That's all there is to it.



Levels of defense


As you can see in the screenshot above, we use seven partitions on an external hard drive, each dedicated to one day of the week. So we always have six days of backups (not counting today) at our fingertips. This might be more than you need, but it illustrates the flexibility available with Growly Backup.

You can also backup to a thumb drive that you take with you whenever you leave home. Or leave one at a friend's house, or your parent's, or in a safe deposit box. If you're a paranoid control freak, or just a cautious person who doesn't want to lose a lot of hard work, Growly Backup should be in your toolkit.